Monarch Flexi Screen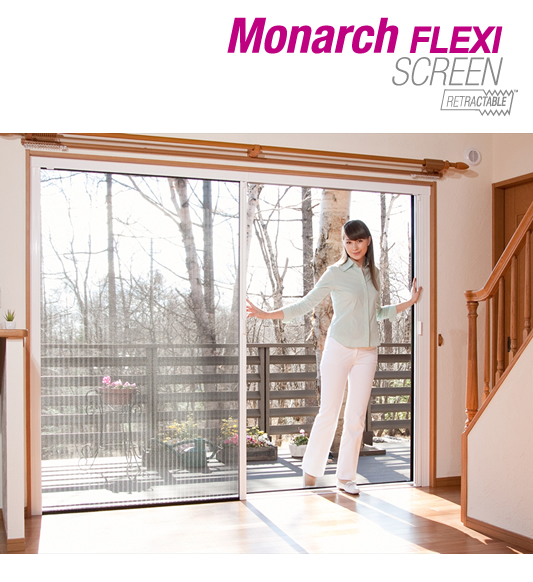 Key Features

Decorative & Practical Pleated Screen Solution for Doors
—Provides insect protection and ventilation when needed, disappears when you don't.

Manually Operated, Convenient
—Smooth, quiet, safe, and functional, remains in the desired position.

Unrestricted Entry
—Our Low Profile Bottom Rail offers a barrier-free access.
Functional, yet Attractive
—The Retracting Mesh Guide serves to properly maintain the position of the mesh when the screen is extended, and disappers when retracted.


Innovative New Screen Fabric, Both Durable & Sheer
—Mesh: a new formulation of combining PP+PE. Each strand of PP is coated with PE for durability, allows for a clearer view and optimum ventilation.
Long-Lasting High-Performance Wire
—A recent development in wire technology ensures years of worry free use.
Fits A Variety of Doors and Wide Openings
—The Foldaway suites most types and styles of doors, and the connectable panel system allows to cover wider openings.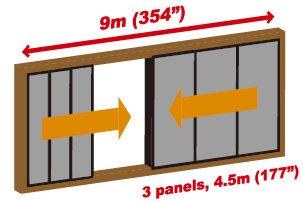 Specifications
Maximum size

Single sliding (1 panel)

Width: up to 2,000mm (78 3/4")
Height: up to 3,000mm (118")

Single sliding (3 panels (max))

Width: up to 4,500mm (177")
Height: up to 3,000mm (118")

Double sliding
(2 panels : 1 panel/ side)

Width: up to 4,000mm (157 1/2")
Height: up to 3,000mm (118")

Double sliding
(6 panels : 3 panels (max)/ side)

Width: up to 9,000mm (354")
Height: up to 3,000mm (118")

*The maximum width per panel is 2,000mm (78 3/4"). When panels are connected, it will be 1,500mm (59").

Installation

Face mount, Recessed (Frame Inside) mount *Convertible