Vista Plus Screen 2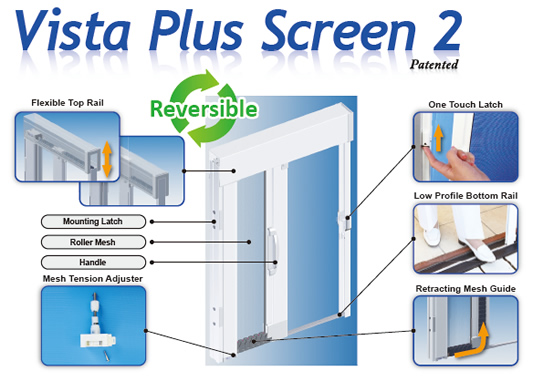 Key Features
Retractable Roller Screen with fiberglass mesh

Unrestricted Entry
—Low Profile Bottom Rail + Retracting Mesh Guide realizes barrier-free access with high insect proof. *Height of the Bottom Rail is less than 6 mm (1/4").

Retracting Mesh Guide
—keeps the mesh properly positioned then retracts into frames when not in use.

One Touch Latch
—Simple to open & Secure closure

Mesh Tension Adjuster
—keeps mesh tight for wind proof.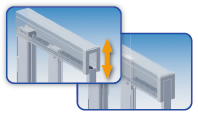 Flexible Top Rail
—enables height-adjustment up to 50 mm (2") without cutting.
Width can be adjusted by cutting.
Mounting Latch —makes installation & release easy.
Reversible —Easily accommodates right or left hinged doors.
Replacement Main Screen Cartridge (RMSC) —is available.
Specifications
Maximum size

Width: up to 1,100mm (43 1/4")
Height: up to 2,500mm (98 3/8")

Installation

Recessed (Frame Inside) mount

Material

Frames: Aluminum

Mesh: Fiberglass

Color

White
It could be a little bit different from the real color.

*Custom color is available with a certain volume.

Accessories

Replacement Main Screen Cartridge (RMSC)
Download
Installation manual
Drawing



Contents of this site for Seiki Screen Systems
Copyright (C) Seiki Sogyo Co., Ltd. All Rights Reserved