Monarch Window Screen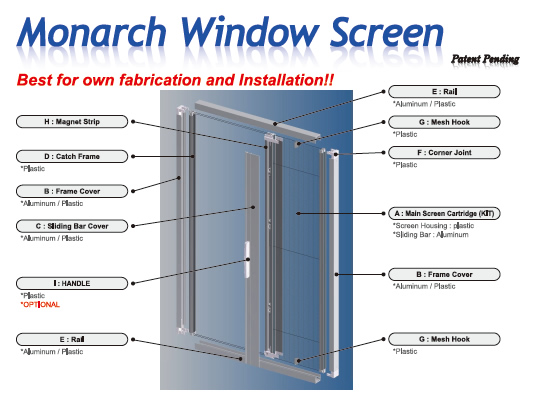 Key Features

Retractable Pleated Screen with PP + PE mesh

Manual Operation
—Smooth, quiet and safe operation
*Screen can stay where positioned on the rail.
Compact Design —15 mm (5/8") pleated mesh enables compact design of the unit.
Selectable Frame Spec —Aluminum or PVC frame can be selected to suit both Aluminum and PVC windows.
Mesh Hooks —hold the mesh on the top of unit and provide wind proof.


Wide Adjustability
—Size adjustable by cutting both in height and width.
Selectable Storing Side —Storing side can be determined at site.
Vertical type —is available.

Easy Installation —"Face mount" with high-strength adhesive tape and "Recessed mount" with specially designed attachment are available.

Handy for Painting
—Frames on the Main Screen Cartridge are covered by paintable aluminum frames.
Double Door Kit (DDK) —converts 2 screens into a double screen.
Replacement Main Screen Cartridge (RMSC) —is available.
Installation images
Specifications
Maximum size

Single sliding

Width: up to 1,300mm (51 1/4")
Height: up to 2,000mm (78 3/4")
* In the case "Height > 1,500mm" (59 1/8"),
Max Width is 1,000mm (39 3/8")

Double sliding

Width: up to 2,600mm (102 1/4")
Height: up to 2,000mm (78 3/4")
* In the case "Height > 1,500mm" (59 1/8"),
Max Width is 2,000mm (78 3/4")

Vertical type

Width: up to 1,300mm (51 1/4")
Height: up to 1,300mm (51 1/4")

Installation

Face mount, Recessed (Frame Inside) mount

Material

Frames: Aluminum/PVC

Mesh: PP + PE

Frame Color

PVC type: White

Aluminum type:
Mill-Finish (paintable), White, Silver, Black, Light Bronze, Dark Bronze, Champagne Gold
Download
Installation manual
Drawing



Contents of this site for Seiki Screen Systems
Copyright (C) Seiki Sogyo Co., Ltd. All Rights Reserved