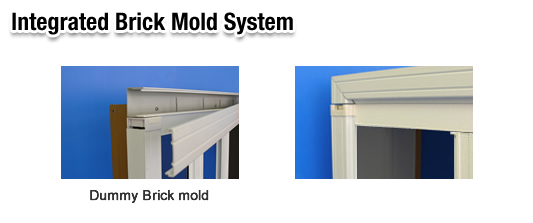 An excellent feature for decorative door systems, the screen can be discreetly hidden in the brick mold. The screen housing replaces the original brick mold and a dummy brick mold of the same material is installed. In this way, the screen appears to be the brick mold itself.
Barrier Free, Retractable System

Innovative!! Retracting Mesh Guide. The movement of the Mesh is accompanied by the Retracting Mesh Guide automatically. When the Mesh is in use, the Retracting Mesh Guide keeps the Mesh in the proper position. When the Mesh is retracted, the Retracting Mesh Guide is also retracted into the Sliding Bar. Only the low profiled Bottom Rail ( 6mm height ) is leave at the bottom ( door-frame or door-sill etc. ). This means the high insect-proof and unrestricted entry.




Easy Operation



One Touch Latch
The One Touch Latch System retracts the screen with a single touch of the latch. Convenient when returning home carrying groceries or anything else, the screen retracts to allow passage through the door. An innovative system created from the viewpoint of the user.
Spring Adjustment System
With this system, a dial is provided to retract the screen with the force of a spring. The dial can be used to adjust the screen any time, providing an easy way to set to the desired setting.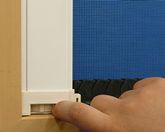 Spring Adjuster
Lock Adjustment System

Lock Adjuster
This system provides a dial to set the width of the retractable screen to the size of the openings. When the dial is locked in, tension is applied to the screen to provide a high level of protection against insects even when the wind is blowing.
Easy to Adjust

cutting
The height and width of the unit can be adjusted by cutting the components.
Replacement Mesh Cartridge
Replacement Mesh Cartridges are available. You can change the mesh easily if it becomes damaged.